Harriet Graham and Darren Bissett appointed at award-winning Scottish racecourse

Press Release 20.03.202
Hamilton Park have today announced the appointment of two key roles in the racing department as they have confirmed their new Clerk of the Course and Track Manager.
Experienced trainer, owner and clerk Harriet Graham takes up the position as Clerk of the Course, a role she also fulfils at Musselburgh, whilst Darren Bissett joins the team as Track Manager, taking the next step in his career following his role in the grounds team at Ayr as well as previous roles at Godolphin and Johnston Racing.
Darren Bissett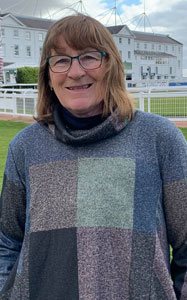 Harriet Graham
Harriet, fresh from a strong showing in the RSA Novices' Chase at Cheltenham with Aye Right, said "I'm thrilled to be able to join Vivien and the team at Hamilton Park and look forward to helping deliver a great season of racing."
Darren added "The opportunity to take up a role at Hamilton has come at the perfect time in my career. I'm incredibly excited by the challenge of maintaining and improving the already fantastic reputation the course has for both the quality of the racing surface and the presentation of the whole resort."
Vivien Currie MBE, Chief Executive at Hamilton Park said: "We're delighted to be welcoming Harriet and Darren to the team in what are two pivotal roles in the delivery of our racing season. Naturally we are all facing an incredibly challenging time with racing suspended until the end of April, but we still need to prepare for the time when we can get underway again.
"Harriet brings with her a wealth of experience from across the industry which can only benefit our raceday operations, whilst Darren is looking to progress his career with us by stepping into a more senior role. We're looking forward to supporting his development and helping them both to further enhance our reputation on and off the track."