Join us from home on Friday 14 May for our action packed first evening fixture of the season.

 The action gets underway with our first race at 5.35pm. Don't miss our feature race,
The Palmaris Services Braveheart Handicap Stakes at 7.15pm.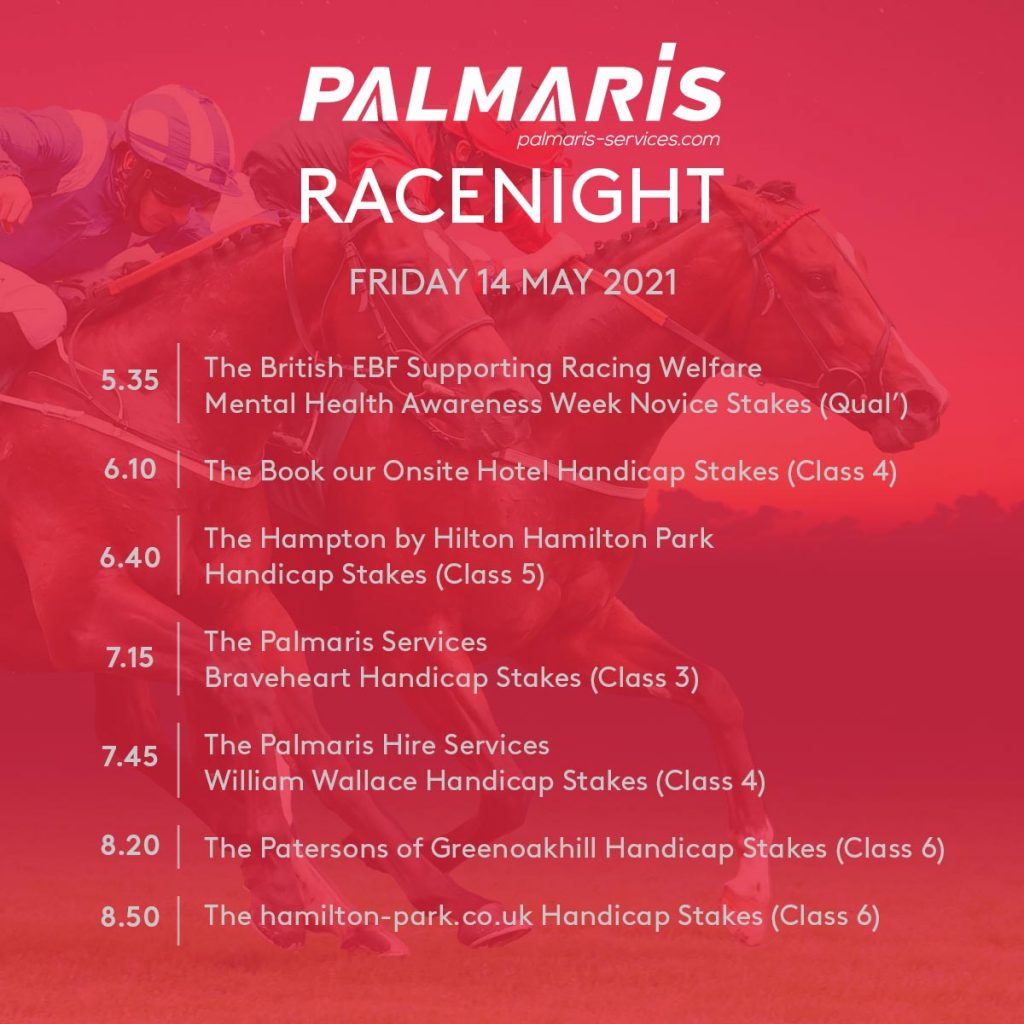 ---
DIGITAL RACECARD
Palmaris Services Racenight digital racecard is available to view here
---
PREVIEW
Racing TV's Gordon Brown gives us his preview for the evening's racing.
---
TITLE SPONSOR
We are delighted that this will be our 4th year working with Palmaris Services as our first evening fixture of the year title sponsor. We spoke to Ian McArthur, Managing Director of Palmaris Services to find out his thoughts on being a title sponsor at Hamilton Park.
"What were your expectations on advertising at Hamilton Park, and how have these expectations been met?"
Palmaris Services have been race day main sponsor for the past four years and our association with the racecourse, Hamilton and the local area has seen our company brand awareness increase, reaching a broader audience and attracting new, additional commercial success.
The Palmaris Services Racenight has real sense of occasion and four years ago our expectation was simply to engage with our guests and enjoy an evening of excellent hospitality and entertainment. Four years on and our experience is so much more with consistently positive guest feedback which strengthens our relationships.
"How did you find dealing with your account manager?"
Ann totally understands our commercial expectation from the Palmaris Services Racenight and always goes that little bit further to make sure that our Palmaris brand is clear and consistent and that our guests have a memorable night.
"How do you feel your partnership with Hamilton Park has helped your business?"
As a local company and employer it's important that our clients have a strong association with our brand. Positive memories and great, fun experiences from the Palmaris Services Racenight either as a guest of Palmaris or as a race day visitor, links our commercial brand to the racenight experience, enhancing our already positive and professional reputation. Brand awareness grows over time and now entering our fourth year of association, the Palmaris Services Racenight has become synonymous with the May race calendar both locally and nationally.
"Would you recommend sponsorship with Hamilton Park, and why?"
Absolutely! The racecourse association works well for Palmaris Services as a local company. Our brand receives maximum exposure to a broad audience through race day sponsorship, Palmaris Services Handicap and fixed advertising on Bothwell Road. Now in our fourth year we have seen a real uplift in our brand awareness which translates into future commercial opportunities for our business.