Hamilton Park Racecourse is committed to providing an accessible and 'inclusive' environment to all persons, regardless of disability.
Our aim is to provide a safe and friendly venue, with an amazing experience and an unforgettable raceday.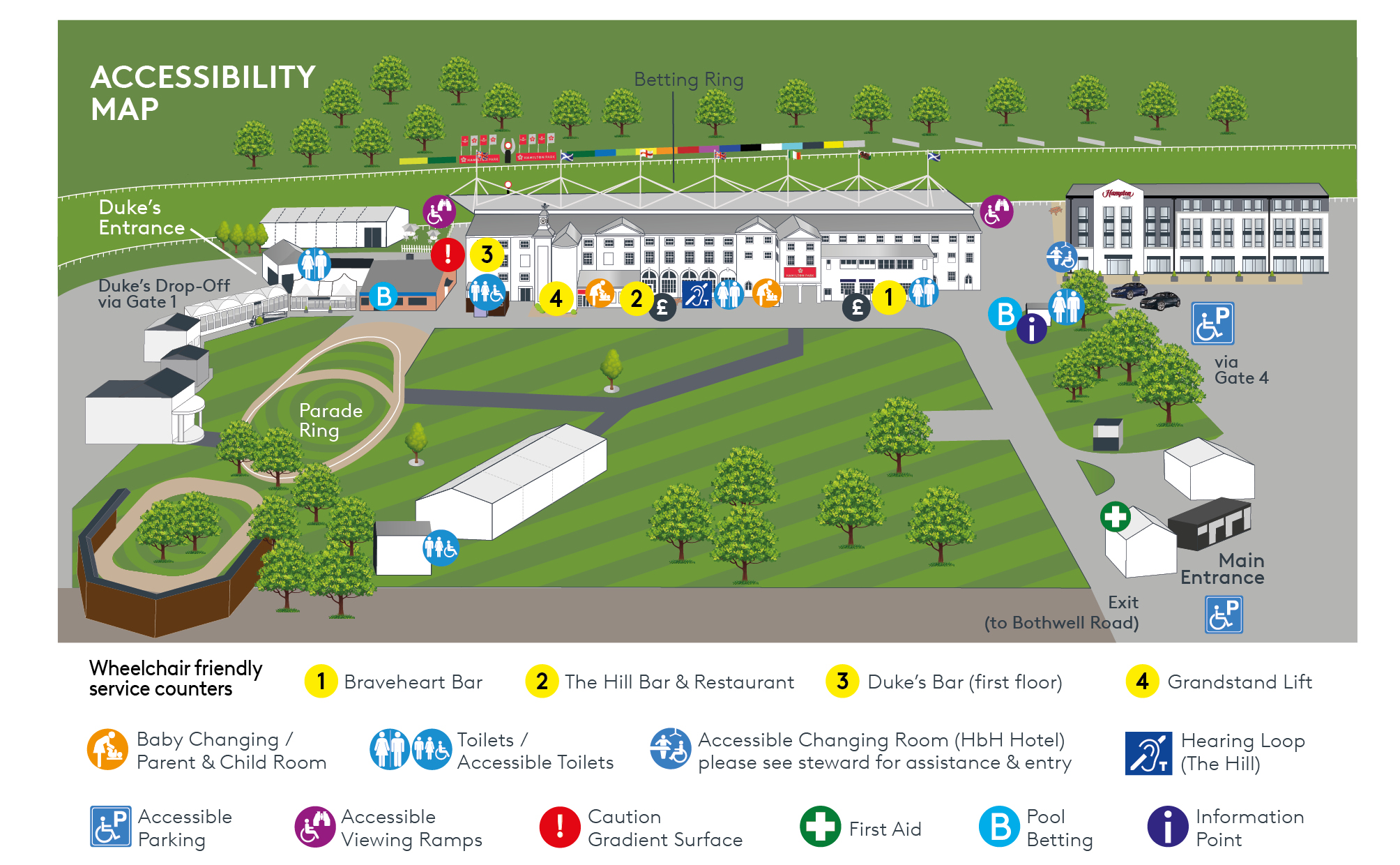 Sunflower Lanyard 
We want to assist with all hidden disabilities and recognise the sunflower scheme. We will endeavour to assist if required. Please speak to our stewards for further information or assistance.
Digital
Digital racecards are available for each fixture on their designated landing page.
Parking
Dedicated parking bays are available for Blue Badge holders in Duke's car park accessed via Gate one and in the general public car park accessed via Gate four.
Viewing
We have two raised race-viewing platforms positioned at track side with great views of the final straight and the winning post. Personal assistance/carer seats are available on our viewing platforms subject to availability and space with priority given to wheelchair users.
Access
Visitors to the Private Boxes and first floor facilities in the grandstand have access via lift.
Wheelchair users visiting the Owners & Trainers facilities can gain access using the ramps positioned at all entrances.
Toilets
Accessible toilets are available on the ground floor of the grandstand and also at the Parade Ring Marquee as well as the Dukes Restaurant (Hospitality area). Adult changing facility with hoist, is available via the HbH Hotel. Please see Steward or Team member for access and assistance.
Bars & Catering
Our hospitality areas are wheelchair accessible. Including Duke's Restaurant, Private Boxes and Marquees (please note these facilities are available on an advanced hospitality booking basis only).
Duke's Bar and Panorama Bar are accessible via lift.
All other public catering is situated at ground level with excellent access. These include Red's Wine Bar, Racing TV Bar, Braveheart Bar, The Hill and Bar Restaurant and Overton Farm Grill (grass area).
Service
Lower level counters are available at the Dukes Bar, Bravehearts and The Hill.
Ground Elevations
Please note that there are some elevations to the ground around the site, particularly at Duke's Entrance and the front of the grandstand.
Should you require assistance, our customer care team will be happy to help.
Personal Assistant / Carer Goes Free
We have a 'carer goes free' entry scheme in place where parties comprising of one racegoer who needs physical assistance to get around the course and their registered accompanying carer will only be charged for a single adult admission. We would be pleased to offer a familiarisation day in advance of racing if required.
Should you require any further information then please contact the team on 01698 283 806 or visit the following website: https://www.accessable.co.uk/north-lanarkshire-council/access-guides/hamilton-park-racecourse